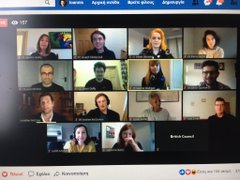 We have been so proud this year to have both of the Limerick reps at the national final of Ireland as biggest science communication competition FameLab come out of our department.
Sandra Hurley, who is a PhD student studying what is best for horses, qualified as the winner of the Limerick heat. In the final Sandra gave a fantastic talk titled 'Don't fence me in'. Sandra managed to tie in the consequences of the COVID-19 crisis into deepening our empathy and understanding of animal welfare. Throughout the lockdown people have been feeling the pressure of restriction. A desire for freedom. Sandra drew on this feeling to show us how this is exactly how animals who were born to be wild must feel when locked up or 'fenced in'. It was a brilliantly composed and thought provoking talk.
Andrew McGovern is a teaching assistant with us studying sex differences in disease. He qualified through 2nd place in the Limerick heat and won the audience choice award there also. Andrews final talk was titled 'Don't be shy: The important difference between X and Y'. Andrew brought brilliant creativity to his talk using rhyming, puppets and a book reading to communicate about sex differences in disease today and throughout history – all in three minutes! He won the peoples vote claiming the FameLab Ireland audience choice prize, securing the double as the audiences choice for science communication not only in Limerick but in all of Ireland.
We are so proud of our award winning colleagues and cannot wait to get them both back in front of students, to continue to communicate and educate as effectively and passionately as ever.